A little look at Singapore History:

Singapore is a small island city-state (The city and country are the same, like Vatican City). The land size of Singapore is 271 square miles, with a population of about 5 million (second most populated country with 7000 people per sq. km).
Singapore became a nation in 1965, and has industrialized and modernized rapidly to become one of the four "Asian Tigers" with English as its primary language (although most of its population is Chinese).
Despite its small land area, Singapore has a population, economy and armed forces that place it in the same place as small, but full-fledged nations like Ireland, Israel and the Nordic countries. Singapore has a consistent hot, flat and tropical environment. The land is either developed as metropolitan with high raises, malls, apartments, etc, and the undeveloped land is basically jungle.
Things to see in Singapore:
Despite its small size there are many things to do in Singapore especially if you like to eat and shop. After living there for nearly a year I found that there are many great restaurants, and you can find just about any kind of food you could want.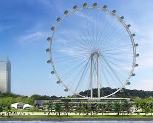 You Don't need to worry about getting around, because you can pretty much get anywhere in Singapore in a half hour cab ride, or by bus, or the modern MRT system. There are also three ethnic areas, little India, China Town and Arab Street District that houses Singapore's largest mosque, the Sultan Mosque.
Each of these is a small microcosm of different ethnicity and cultures. These areas are within a ten minute cab ride apart and can be visited pretty much all in one day.
 Things to do in Singapore:
Singapore also is in the process of expanding the Sentosa Island (like a miniature Hawaii) and the Harbor area. There are quite a few larger resorts and they just opened their first Casino, and a Universal Studios for those who enjoy theme parks (and attempting to hit the big jack pot).
The island also has many tourist areas and attractions including golf courses, beaches, cable car rides above the harbor, Festive Walk, Sea-life Park, slalom courses and other exciting things to do. My favorite place would have to be the Sentosa Shangri-La Resort at the south end of the island.
 Must See attractions:
Another area that is a must see is the Singapore River Waterfront, Singapore Flyer, and various architectural masterpieces in the downtown and old town areas. There are a number of old British Colony buildings like the Raffles Hotel and Old Parliament House as well as new and modern designs like the Esplanade Theaters by the Bay, again all within a ten minute cab ride.
You can also shop till your heart's content for even though Singapore is small they have over 80 large shopping complexes scattered throughout the islands.
So if you are looking to experience a range of activities and cultural experiences all within a short cab ride, Singapore is the place to be.
For Video Adventures Join: Singapore – Travel with Motorola Man.